GlobeNewswire
HAGENS BERMAN, NATIONAL TRIAL ATTORNEYS, Investigating B. Riley (RILY) Amid Write Offs and Credit Downgrades of Franchise Group, Encourages RILY Investors with Substantial Losses to Contact Firm's Attorneys
News provided by
Hagens Berman Sobol Shapiro LLP
Nov 20, 2023, 12:17 PM ET
SAN FRANCISCO, Nov. 20, 2023 (GLOBE NEWSWIRE) -- Hagens Berman urges B. Riley Financial, Inc. (NASDAQ: RILY) investors who suffered substantial losses to submit your losses now.

Visit: www.hbsslaw.com/investor-fraud/RILY
Contact An Attorney Now: RILY@hbsslaw.com
                                               844-916-0895
B. Riley Financial, Inc. (NASDAQ: RILY) Investigation:
The investigation focuses on the accuracy of B. Riley's statements concerning Franchise Group ("FRG").
On Aug. 28, 2023, B. Riley announced it invested $216.5 million in an equity financing to facilitate the $2.8 billion management-led acquisition of FRG, which was completed on Aug. 21, 2023.
Questions about B. Riley's FRG investment began to arise on Nov. 2, 2023, when the DOJ announced that co-founder of hedge fund Prophecy Asset Management John Hughes had pled guilty to conspiring to defraud dozens of victim investors out of $294 million. Bloomberg later reported that FRG's CEO Brian Kahn is one of two co-conspirators and Reuters reported that Hughes named Kahn as a co-conspirator.
Then, on Nov. 8, 2023, B. Riley revealed that it was forced to mark down the value of its investment in FRG after the company reported a decline in revenue and a net loss in the third quarter. That markdown resulted in B. Riley reporting a net loss of $75.8 million in Q3 2023, compared with a profit of $45.8 million a year earlier.
Most recently, on Nov. 10, 2023, S&P Global Ratings downgraded FRG's credit rating, dropping it further down in junk status to "B-" from "B" with a negative outlook, citing its weak performance. S&P also said it was monitoring legal developments relating to FRG's Chief Executive Brian Kahn, who led the August take-private deal.
These events have caused the price of RILY shares to decline sharply.
"We're focused on RILY investors' losses and are investigating the propriety of B. Riley's disclosures concerning the FRG investment and the company's relationship with Kahn," said Reed Kathrein, the Hagens Berman partner leading the investigation.
If you invested in B. Riley and have substantial losses, or have knowledge that may assist the firm's investigation, submit your losses now »
If you'd like more information and answers to frequently asked questions about the B. Riley investigation, read more »
Whistleblowers: Persons with non-public information regarding B. Riley should consider their options to help in the investigation or take advantage of the SEC Whistleblower program. Under the new program, whistleblowers who provide original information may receive rewards totaling up to 30 percent of any successful recovery made by the SEC. For more information, call Reed Kathrein at 844-916-0895 or email RILY@hbsslaw.com.
About Hagens Berman
Hagens Berman is a global plaintiffs' rights complex litigation law firm focusing on corporate accountability through class-action law. The firm is home to a robust securities litigation practice and represents investors as well as whistleblowers, workers, consumers and others in cases achieving real results for those harmed by corporate negligence and fraud. More about the firm and its successes can be found at hbsslaw.com. Follow the firm for updates and news at @ClassActionLaw. 
Attorney advertising.
Past results do not guarantee future outcomes.
Services may be performed by attorneys in any of our offices. 
Contact:
Reed Kathrein, 844-916-0895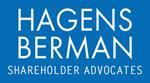 NOTE: This content is not written by or endorsed by "WCBD", its advertisers, or Nexstar Media Inc.
For inquiries or corrections to Press Releases, please reach out to GlobeNewswire.