GlobeNewswire
Vancouver International Airport Deploys Quanergy 3D LiDAR Solution to Improve Passenger Journey
Leading LiDAR Solution Overcomes Legacy Challenges to Deliver Significant Cost Savings and Enhanced Operational Efficiency

News provided by
Quanergy Solutions, Inc.
Nov 21, 2023, 1:15 PM ET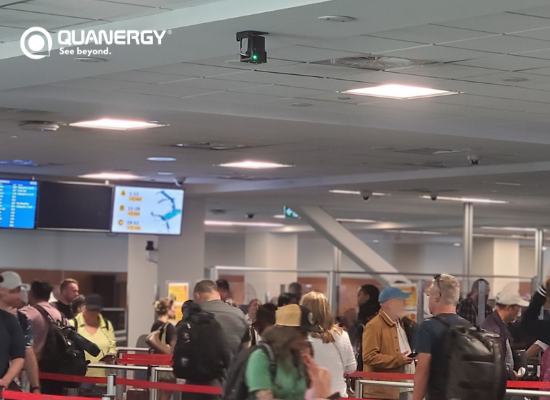 SAN JOSE, Calif., Nov. 21, 2023 (GLOBE NEWSWIRE) -- Quanergy Solutions, Inc., a leading provider of 3D LiDAR (Light Detection and Ranging) security solutions, was chosen by Vancouver International Airport (YVR) to analyze footfall and passenger journey and ultimately improve passenger happiness. Quanergy's solution surpassed the capabilities of existing solutions and delivered accurate, data-driven insights for enhanced operational efficiency, passenger satisfaction, and cost savings.
"Through the implementation of Quanergy's solutions, we have harnessed the power of real-time insights, gaining a deep understanding of passenger volumes and the associated wait times at different stages of their journey through the terminal," said Jason Williams, Manager, Innovation & Technology Group, YVR. "With this high-precision data at our disposal, we can trigger real-time alerts whenever we approach or exceed predefined thresholds. This invaluable capability enables us to collaborate seamlessly with our stakeholders, ensuring that our travelers experience a smooth and stress-free journey through our airport."
Prior to Quanergy's deployment, YVR had previously employed a number of camera-based and 3D stereoscopic sensor solutions to provide queue analysis and people-counting in several areas around the airport. However, with these solutions in place, the airport struggled to gather accurate data due to systems limitations including restricted fields of view and inaccurate depth perception. This ultimately would skew the occupancy or queue counts, making it very difficult to drive impactful change and deploy systems cost-effectively at scale.
With Quanergy's 3D LiDAR sensor and advanced perception software solution, Q-Track, YVR is now able to accurately identify, classify, and track people/objects for enhanced operational insights. YVR currently uses these insights to meet a number of operational and business imperatives such as reducing check-in time and time spent passing through security, which ultimately sees an increase in customer happiness.
Quanergy is also able to reduce deployment costs, with one of its 3D LiDAR sensors providing the coverage of up to five stereoscopic cameras. YVR needed to use only 1 Quanergy LiDAR to cover the same area that would have needed 7 or more of their existing (competitors') sensors. In addition to the reduction in the number of sensors, the cost of installation, cabling, and maintenance made Quanergy's total cost of ownership (TCO) advantage even more stark. This allowed YVR to scale the solution quickly with future plans to implement Q-Track landside and airside for enhanced traffic control outside of the terminal.
"We are pleased to have collaborated closely with the YVR team, resolving a multifaceted challenge encountered by many passenger terminals today," said Adam Andres, Vice President, Global Sales, Quanergy. "The forward-thinking of the YVR Innovation and Technology Group, in embracing Quanergy's field-tested and fully scalable Q-Track solution, led to the successful achievement of our project objectives. We take pride in our contribution, providing real-time actionable intelligence to enhance security, streamline operations, and elevate the overall passenger experience." 
For more information, please visit www.quanergy.com.
About Quanergy
Quanergy is redefining physical security with real-time 3-D LiDAR solutions. Based in Silicon Valley, Quanergy's revolutionary Security as a Service delivers intelligent proactive awareness for highly dynamic environments like critical infrastructure, smart cities, smart spaces, and industrial automation. Quanergy's mission is to ensure you see beyond current sensing limitations and experience the power of 3-D security designed for a 3-D world. For more information, please visit us at www.quanergy.com.
Contact
A photo accompanying this announcement is available at https://www.globenewswire.com/NewsRoom/AttachmentNg/f3b28f00-eb94-46e7-b213-111367edc906


NOTE: This content is not written by or endorsed by "WCBD", its advertisers, or Nexstar Media Inc.
For inquiries or corrections to Press Releases, please reach out to GlobeNewswire.