Winterize your windows in preparation for cold weather
Weatherizing your windows may sound like a complex task, but all it means is sealing any cracks or gaps to keep the cold air from coming in and the hot air from going out. This will not only ensure you are more comfortable during those colder months, but it will also reduce your energy bills and heat loss in your home.
The good news is even an inexperienced homeowner with few DIY skills can easily accomplish this task. Our resident DIY expert Beth Allen, founder of HIP Chicks (Home Improvement Project Chicks), explains how to weatherize windows.
Shop this article: Dap Seal 'N Peel Removable Caulk, 3M Interior Transparent Weather Sealing Tape and Frost King Shrink Film Window Kit.
Identify air leaks
Allen explained that the first step to weatherizing your windows is identifying if you have air leaks and determining where they are. "Is air coming in where the window hits the sill? Is there an air leak coming in from the sides? Is the air coming in where the two sashes meet and lock? Or, do you have air leaks around the trim on the window? Any one (or more) of these areas can be the problem," she said.
To find an air leak, Allen advises to look, listen and feel. "Do you see any light coming through? Can you hear air coming into your home? Do you feel a draft around the window?" You can also use a thermal laser to check for changes in temperature around the window or look for spiderwebs because spiders build their webs where there is a flow of air to help them catch their meals.
If you want a comprehensive audit of your entire home, however, Allen suggests contacting your local energy company. Most have a crew that will come to your home and inspect it to identify any issues that might be responsible for higher energy bills.
Select a suitable window draft stopper
Once you have found the air leak, you need to choose a product that can fix the problem. While you have several options for window leak repair, the right choice will depend on where the leak is.
"In most cases, rubber foam weather-sealing tape will be a proper solution," Allen advised. "This would go along the bottom where the window meets the sill to fill any gaps where the air is leaking through. If you have an air leak where the two sashes meet along the line where the lock is, you have an option of using removable caulk on windows. This is not typical caulk that has to be scraped and peeled off but a clear removable caulk that can be pulled off in seconds with your fingers."
Allen also said the shrink film window kits work very well. You peel and stick shrink wrap across your entire window. Then, heat it up with a hair dryer to seal any and all cracks or gaps around the window.
Weatherizing tips
Lock your windows: When windows aren't being used, Allen said they are supposed to be kept locked. This is not just for security; locking your windows gives you the maximum energy-saving benefits.
Don't buy thicker than you need: It's tempting to get the thickest weather stripping possible, but Allen said that's not the best option. If you have a quarter-inch gap, get weather stripping that is a quarter-inch thick — no more, no less.
Buy the right product: If you have vinyl windows, you need a product with a peel-and-stick application, not screws. If you have wood, screws are suitable.
Regular caulk is OK on nonmoving parts: If you need to seal a gap between the window and the wall, such as beneath the sill, it is fine to use painters' caulk because it won't impede the operation of the window.
Read all directions: The directions show you what part of the window you can apply the product. If the product uses adhesive, the directions also tell you what temperature is best for application. Allen cautioned to always read through the product directions before weatherizing.
The same applies to doors: Allen pointed out that the general guidelines that apply to weatherizing your windows are basically the same for doors or other areas of your home where you might have an air leak.
Best window weatherizing products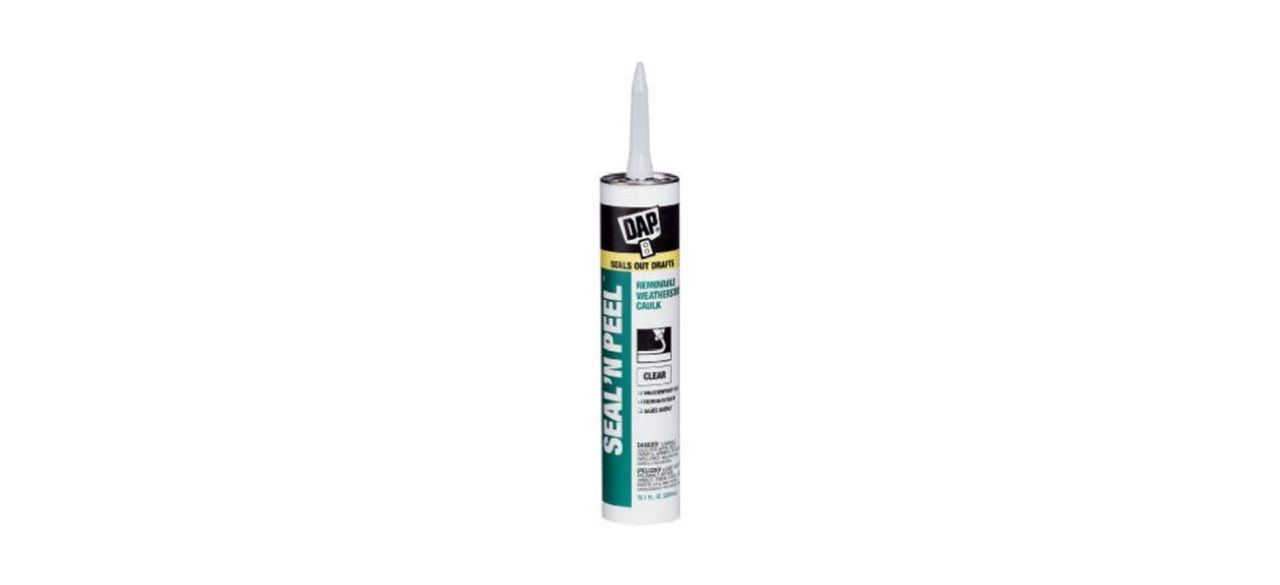 Dap Seal 'N Peel Removable Caulk
This tube of caulk provides a watertight, weatherproof seal that is suitable for interior or exterior applications. The window caulk peels away easily and won't damage painted surfaces.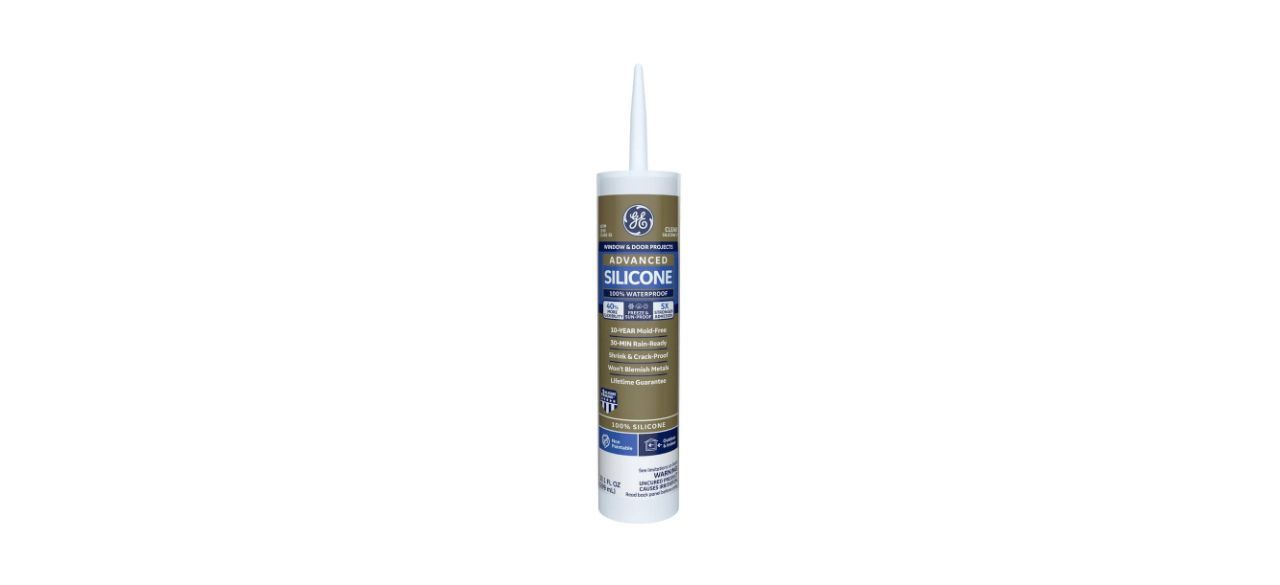 This interior/exterior caulk is rain-ready in 30 minutes. It's 100% silicone and resistant to shrinking, cracking, freezing, and sun. The caulk adheres to most surfaces and is a neutral color.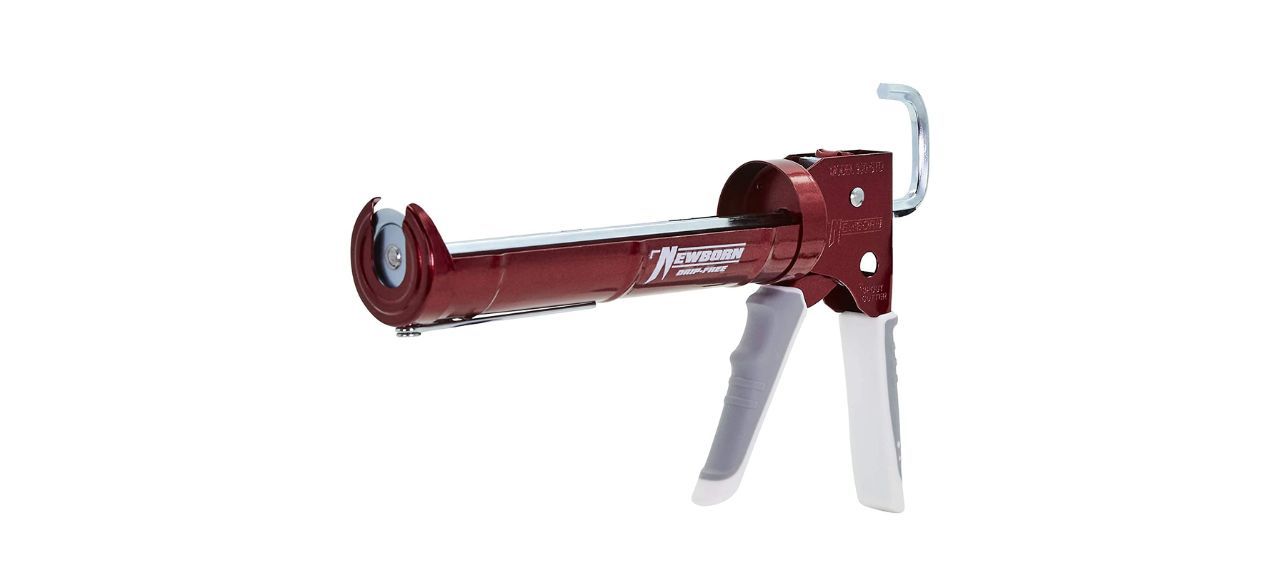 Newborn Drip-Free Caulking Gun
This steel half-barrel frame caulking gun has a 10-to-1 thrust ratio. The smooth pressure rod requires less force and is quieter than a ratcheting model. Both the handle and the trigger on this caulk tool are padded for comfort.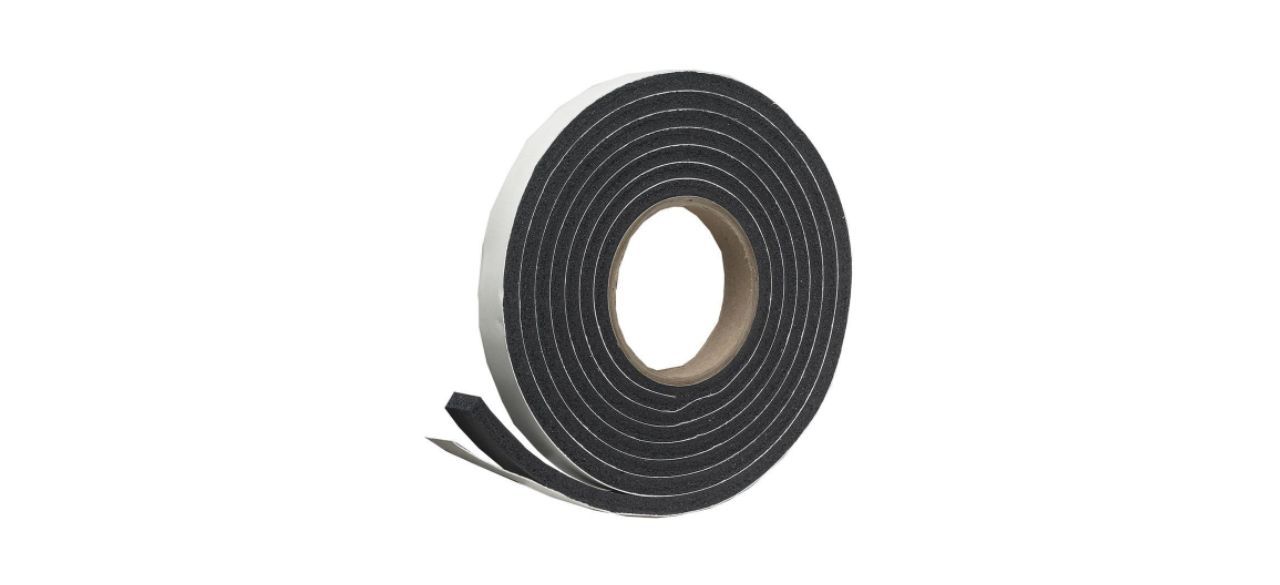 Frost King 3/4-inch Black High-Density Rubber Foam Weatherstrip Tape
Frost King's weatherstrip tape can stop air leaks around windows. The weather-resistant material unspools to 10 feet and offers a simple peel-and-stick application.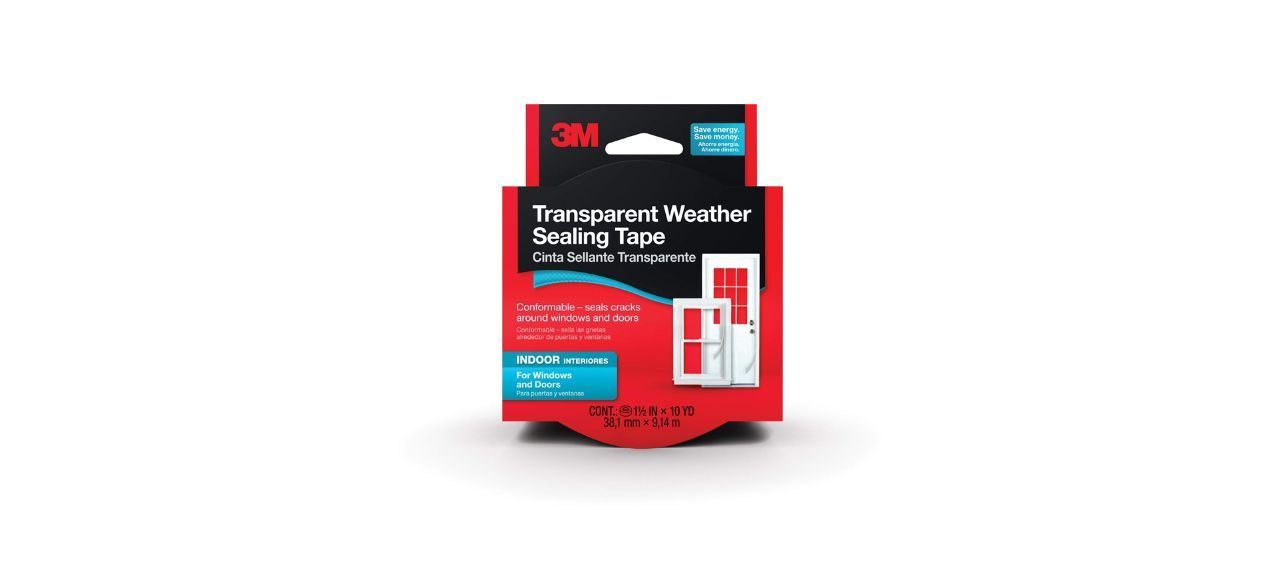 3M Interior Transparent Weather Sealing Tape
This clear weatherproofing tape is moisture resistant and can be used for sealing indoor cracks around windows. The tape conforms to curves and angles to help decrease energy loss.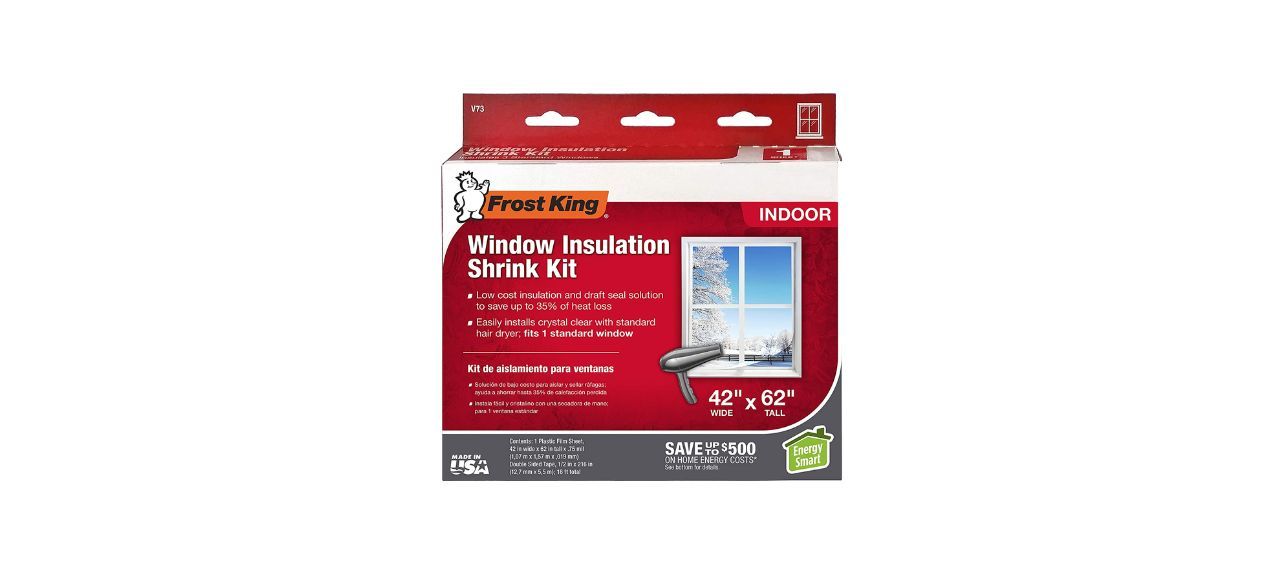 Frost King Shrink Film Window Kit
Frost King's shrink film window kit comes with 42-by-62-inch clear sheets that can be applied to your window with a hand-held hair dryer. The sheets can be installed on metal, painted wood, varnished wood or vinyl-clad window frames.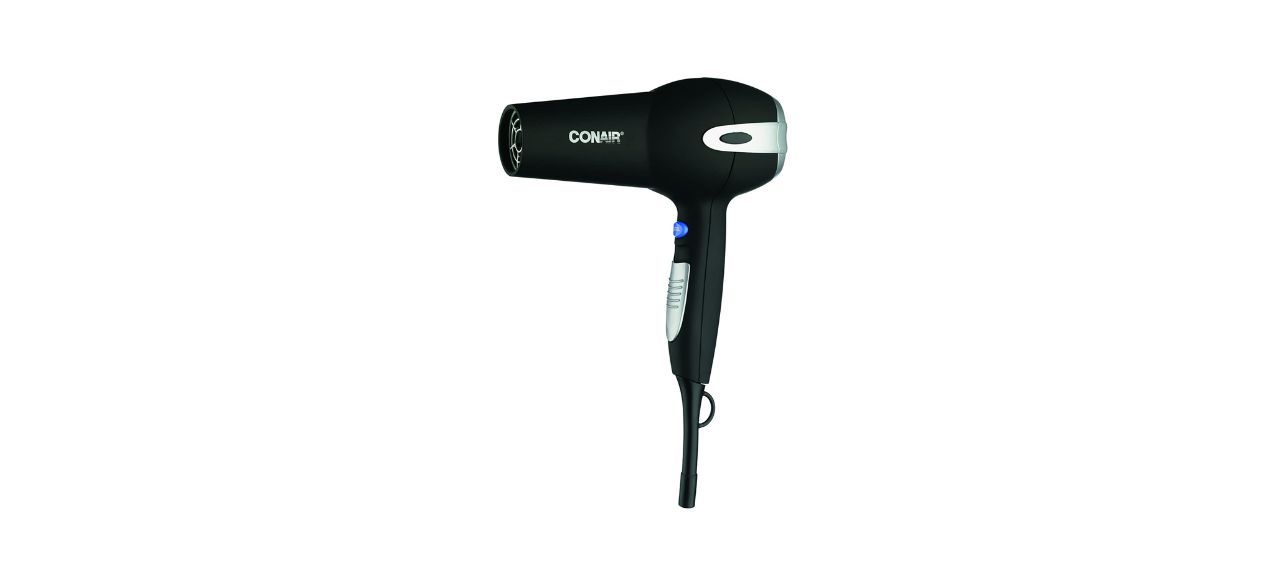 This hand-held hair dryer is all you need to install your shrink film window kit. It is a reliable model from a trusted brand.
Want to shop the best products at the best prices? Check out Daily Deals from BestReviews.
Sign up here to receive the BestReviews weekly newsletter for useful advice on new products and noteworthy deals.
Allen Foster writes for BestReviews. BestReviews has helped millions of consumers simplify their purchasing decisions, saving them time and money.
Copyright 2023 BestReviews, a Nexstar company. All rights reserved.